Description for PKD1218-20A:
Input Voltage:AC 100-240
Input Voltage:Frequency 50/60Hz

Output Voltage:DC 12V
Total Output Current:20A
Total Outputs:18
Fuse Type:PTC (Resetable)
Fuse Rating:1.1A
Mains power with surge protection
Internal ON/OFF switch
Metal case with front door keylock
New Technology,lower temperature!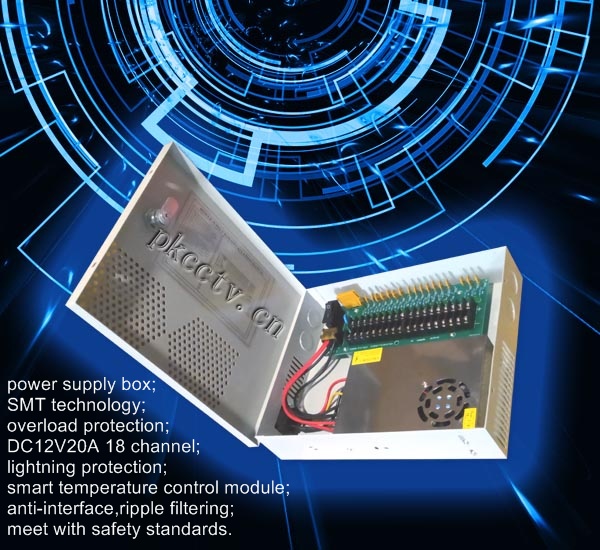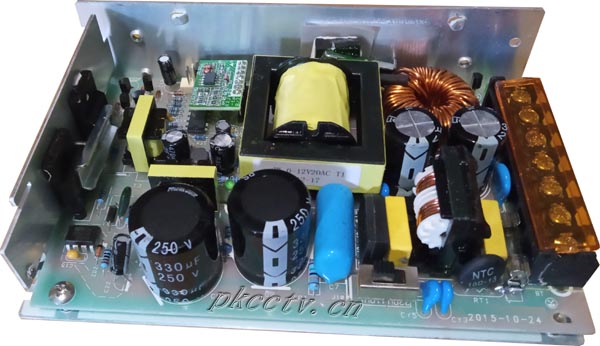 Certificate:CE &RoHS
General Protection:each output has individual PTC fuse and LED indicator, when problem occurs, only affect the individual output, other outputs still working.
Circuit Short Protection:when short condition occurs, individual PTC fuse will open the circuit,when condition removed, PTC fuse will automatically back to close.
High Voltage Protection:when high voltage occurs, the surge protection will be hit through to protect the connected device.
Over Current protection:when over current occurs, the power supply will automatically switch to self-protection status, when condition removed, then switch back to normal.
warranty:1 year warranty.
Application
CCTV Camera, PTZ, IR Illuminators, Video Process Equipment, etc.
Access Control Reader, Lock, Panel, etc.
Cabinet Dimension:24.5 x 21 x 4.7(cm)
Packing Dimension:25 x 21.4 x 5(cm)
Net Weight:2.7kg
Model

PKD1218-20A

Output Group

18

Output Current

20A

Input Voltage

85 – 265 VAC

Rated Input Voltage

100 – 240 VAC

Input Frequency

50 – 60 Hz

Output Voltage

12V DC

Output Voltage Adjustment Range

10.8 – 13.5V

Max Single Output Current

1.1A

Average Full-load Current

1.1A

Ripple Voltage

<120mV

Dielectric
strength

Input and Output

AC 3.0 KV, 1min, 10 mA Test

Input and Shell

AC 2.5KV, 1 min, 10 mA Test

Output and Shell

DC 500V, 1 min, 10 mA Test

Function of protect

1、Output short protection

2、Output over current protection 3、Output over voltage protection

Safety Standards

GB4943、UL60950、EN60950-1

EMC Standards

GB9254、EN55022 Class B FCC

Certification

CE、RoHS

Thermal Methods

Natural air convection, metal box conducts heat

Radiation Protection

Metal box shields electromagnetic radiation, Prevents interference

Operation temperature

-20℃ ~ +45℃

Product Dimension

275(L) X 270(W) X47(H) mm

Packing Dimension

280(L) X 275(W) X 50(H) mm

Weight

1.9Kg
● Use of efficient, environmental protection switching power supply
● Optimization of the shape and structure to facilitate the construction systems
● Small ripple-video output signal more stable, clearer images
● Splitter output-by-pass failure to protect other equipment to work
● Power protection-Output over-voltage protection, over-current
Protection, short circuit protection
● Material of PCB uses 2 ounce brass and fiberglass plate, with
highly mechanical, anti-inflammation (UL94-V0 grade), it's
best grade in stability, sticking, sobbing, hot decomposition and
expansion, keeps whole product working in best condition.