Feature:
(1) One port protector
PK-PR01G-OT Outdoor PoE Surge Protector is a outdoor 1 port PoE surge protector,it designed with 44-57VDC input indoor using, and with 1 RJ45 input port and 1 RJ45 output port,support 8 lines network signals and PoE Surge Protection,could provide 1 PoE wires protection respectively.
(2) High level lightning protection
It has been passed differential mode surge voltage (8/20us) 4KV and Common mode surge voltage(8/20us) 6KV, and support 100/1000Mbps.
(3) Strong compatibility
PK-PR01G-OT supports PoE wire compliant with IEEE802.3af/at/PoE++ standard,protect PoE switch and Midspan devices effective against surge damage.

Description:

The PK-PR01G-OT is a one port PoE surge protector that with high quality surge protection device designed to protect outdoor Ethernet networks from lightning through the Ethernet cable. The product is enclosed in a metalenclosure with high temperature -40℃ to 85℃.
It can be easily mounted with 2 install hole. The surge protector device can be installed outside envrionment, and protect outdoor network device,such as WLan AP,IP Camera against damage from lightning.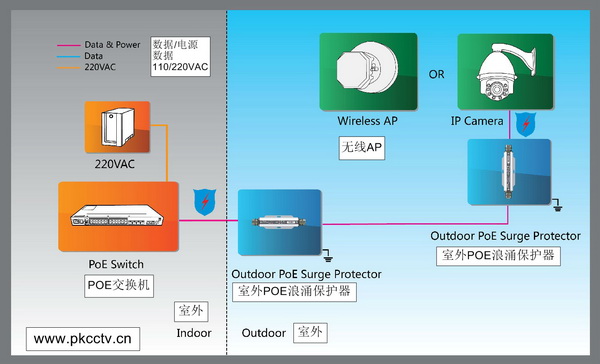 Specification
Key Features
- Connector type:RJ45
- Operating voltage:44-57VDC
- 8 lines surge protection
- Indoor using,case or box inside install
- Metal shell,protected against bumping and striking
- Support PoE wire with IEEE802.3af/IEEE802.3at standards
- Support 60W PoE++ standards
- Easy install with 2 install hole
Standards
- IEEE802.3 10Base-T Ethernet
- IEEE802.3u 100Base-Tx Fast Ethernet
- IEEE802.3ab 1000Base-T Gigabit Ethernet
- RoHS Compliant
- WEEE Compliant,CE/FCC
- FCC Part 15,Class B
- EN 55022 Class B,EN 55024
- MTBF:200,000 h.@25℃
PoE Electrical Specifications
- Ports Number:1
- Operating Voltage:44-57VDC
- Differential Mode Surge Voltage(L-L,8/20us): 4KV
- Breakdown Voltage(4,5-7,8)&(3,6-1,2): 90-180VDC
- Common Mode Surge Voltage(L-E,8/20us): 6KV
- Breakdown Voltage(8 lines-earth): 70-120VDC
- Data Rates:10/100/1000Mbps
- Lines protected:1,2,3,6 / 4,5,7,8
- Insertion Loss:≤0.5dB
- Response Time:≤5ns
Dimension & Weight
- Dimension:209mm X 53mm X 37.5mm
- Weight:180g
Environmental & conditions
- Operating Temperature:-40℃ to 85℃
- Operating Height:-304.8 meters to 3048 meters
- Operating Humidiy:Maximum90%, Non-condensing